Product Description
Below is a diagram which shows how Honeywell Air Purifiers Work.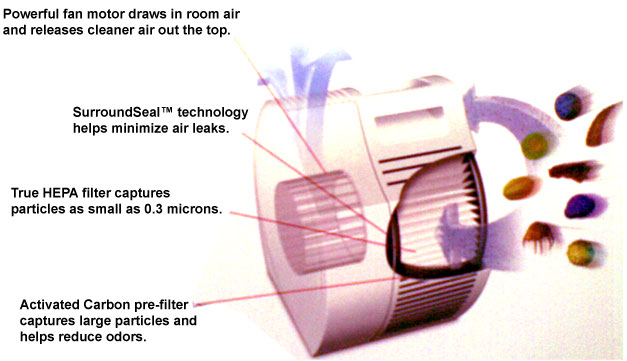 Cost Saving – True HEPA air filtration without the expensive True HEPA replacement filter cost.
Filtration Efficiency – Remove 99.97% of all particles common household particles as small as 0.3 microns. * The carbon pre-filter captures larger airborne particles and helps remove common household odors. SurroundSeal™ Technology also helps minimize air leaks to ensure that the air passes through the filter, capturing particles.
Reduce – Dust, pollen, tobacco smoke, mold spores, cat dander and other airborne allergens such as viruses and bacteria.
Air – tight – The strong casing and built-in filter seals ensure air doesn't leak around the HEPA filter. Refer to below diagram for explanation.
Recommendation – More doctors recommend Honeywell enviracaire® air purifiers to their patients than any other brand. Based on AQS Physicians Survey, Nov 2005.
Less Noise – QuietCare™ sound reducing technology provides lesser noise operation.
Convenient – The Intelli-Check™ Electronic Filter Indicator reminds you when to replace the True HEPA filter and carbon pre-filter.
* From the air that passes through the filter. Overall particle reduction is dependent on many factors, including the amount of air processed, the pollutant type and the pollutants introduction rate into the environment.