Description
Filtration Efficiency – Remove 99.97% of all particles 0.1 micron (μm) or larger in size from the air.
Reduce – Dust mites, pollen, volatile organic compounds (VOCs), gaseous contaminants, odors from smoke, pets and cooking.
Less Noise – The new Blueair 650E is the only air purifier that uses HEPASilent™ technology. It combines electrostatic and mechanical filter technology that deliver more clean air at a faster rate, with less noise.
Certified – It has been certified by the Association of Home Appliance Manufacturers (AHAM) with the highest CADR  (Clean Air Delivery Rate) rating possible in test. Refer to http://www.aham.org & http://www.cadr.org for more information.
Suitable For Mid-Size Rooms – 365 ft2 or 34 m2
Easy-To-Use Manual Adjustable Knob – 4 levels of adjustable fan speed.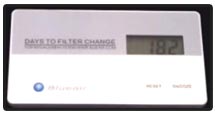 Include Filter Replacement Indicator – This magnetic timer reminds you to change your filters every 6 months as recommended for optimal performance of your Blueair air purifier. The filter change indicator is a timer that counts down from 188 days (6 months). The timer is independent of actual run time. When 0 days remain, change the filters and reset the timer for another 188 days (6 months).
Durable Material – The Blueair system housing is made of galvanized steel, rather than less durable plastic.
Diagram On How It Works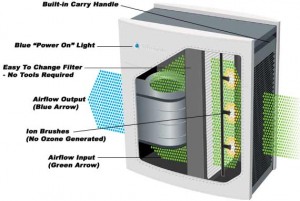 Air is drawn into the unit via an ultra-quiet fan from one side of the unit. Airborne particles pass through an ion chamber and are charged to ensure that they adhere effortlessly to Blueair' s progressive three-stage filter. Cleaned air that is free of impurities is recirculated into the room.