Product Description
Features Of DEX16F

Removes humidity in excess; Dry up your clothes.

Its low sound emmision, obtained without compromises on dehumidifying effectiveness, makes  new DEX16F perfect for bedroom use as well.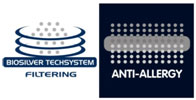 Designed with the aim of improving overall air quality, new DEX16F is equipped with a a biosilver filter, that can be used in combination with an anti allergens filter – for great effectiveness also in allergy peak season.

Control panel integrated directly in the machine body, to maximize ease of use. Ultimate portability finds its expression in the new handle, integrated directly into the product body. Other features include : Electronic anti-frost device, continuous drainage hose provided, integrated handle to maximize appliance portability.